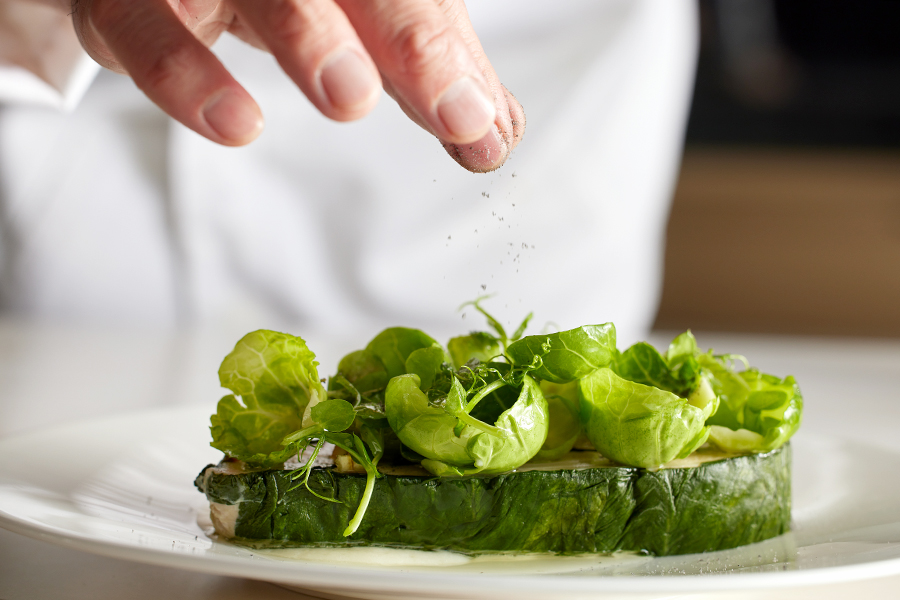 The "ONODERA GROUP"operates the Michelin-starred sushi restaurant "Ginza Onodera" in Japan and abroad, and also focuses on social activities while expanding its food business to include corporations, hospitals, pay nursing homes, and daycare centers. Hitoshi Sugiura is the executive chef of the Onodera Group, who shares the Onodera Group's philosophy "contributing to society through food," has had a rich career in Japan and abroad. For this interview, we asked Chef Sugiura to talk about the appeal and importance of salt, along with his suggestions for menu items that go well with "bamboo charcoal salt".
What is your impression of bamboo charcoal salt?
Of course, salt is very important for my cooking. It plays an important role in bringing out the umami of the ingredients, as well as in matching the ingredients. This "bamboo charcoal salt" is indeed very rich in minerals and brings out the best in the ingredients. With its faint charcoal scent and black color, it is easy to express the presence of salt, and I found it to be an easy salt to use. I think it will also attract the attention of foreign restaurants because of its black advantage.
Bamboo charcoal salt is smoked in a bamboo tube for three weeks, so it has an antioxidant effect, which helps to eliminate the smell of meat. This charcoal effect must also have a positive effect on the human body. If there is such evidence, the range of uses will expand. If possible, I would like people to know the beauty of salt nurtured by the nature of Japan.
About salt, which is necessary for our body
When we eat food, the salt concentration that our tongue sensors tell our brain is "delicious" is said to be 0.8%.
Japan's salt intake is high compared to other countries in the world, and people tend to think that we should try to reduce salt intake because it is harmful to our health, and salt tends to be a bad thing, but the point is that the way we consume salt is important, and we cannot live without it. Dr. Takuji Shirasawa, who I am currently working with on preventive medicine and food, says that it is not necessary to reduce salt intake, but we should take in high-quality salt. Natural salt, in particular, contains a lot of minerals such as magnesium, copper, and calcium, which helps to maintain the balance of minerals in the body and also helps to maintain the health of muscles, bones, and nerves.
What is the best dish for bamboo charcoal salt?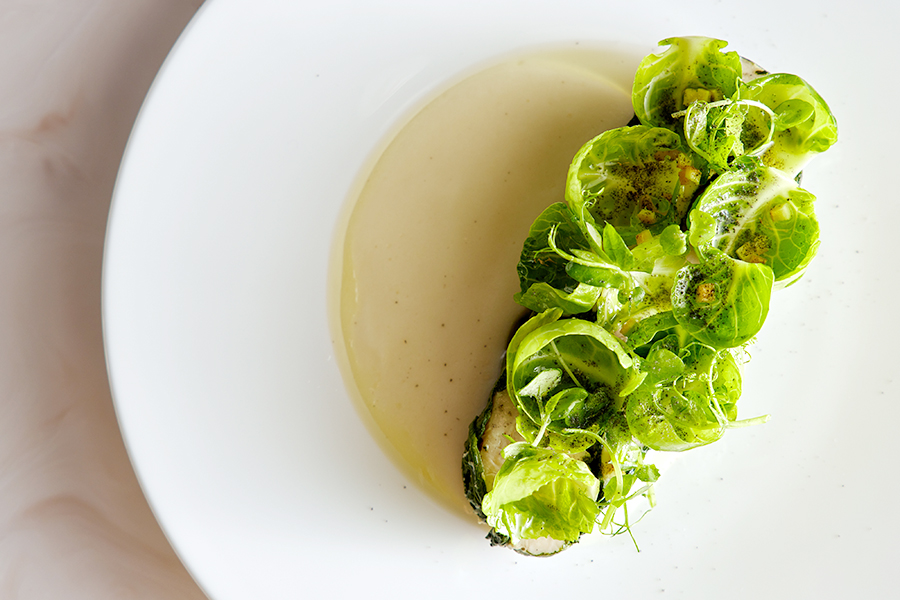 Chicken meat wrapped in spinach is placed on a bed of mash made from garlic.
The top is topped with Brussels sprouts. Finally, just before serving to the guests, I sprinkle bamboo charcoal salt on top.
This dish is a good source of protein, low in calories, and low in carbohydrates. The presence of garlic sauce and salt makes it very satisfying to eat.
It goes well with meat and fish dishes, of course, but I thought it would be easy to use with richly flavored vegetables as well. Bamboo Charcoal Salt is visually black, so it can express a little design nuance on the plate. In this case, I wanted to highlight this salt with a strong mineral taste, so I used light ingredients and avoided making a sauce. To express the importance of salt, I also thought it would be good to have a dish with the concept of "eating salt.
Hitoshi Sugiura
Born in Osaka. After studying at restaurants in Tokyo and Osaka, he moved to the United States in 2009. In May 2017, he won the top prize at "The Vegetarian Chance," a world competition for cooking using only vegetables, held in Milan, Italy. In May 2017, he was selected as one of the top eight chefs at "The Vegetarian Chance", a world competition of cooking using only vegetables, held in Milan, Italy, and won the "Chef of the Year Award" at "Vegetarian Award 2019". In the same year, he was awarded the Executive of ONODERA GROUP. In the same year, he became the Executive Chef of ONODERA GROUP. He has been expanding his activities to the international arena. In recent years, he has been actively involved in the field of food and medicine, supervising menus to prevent dementia and improve health conditions through food.